Alojamento Turístico - Casa das Quintãs
Baião
What's happening

Where To Eat

Points of interest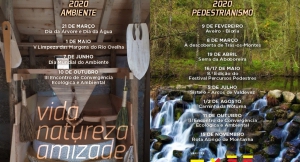 01 Jan to 31 Dec 2020
Hiking activity 2020Annual activity calendar of the Association of Friends of Rio Ovelha
The Restaurant Churrascaria Zezerense has by speciality the grill dishes. However the codfish...
More info
This is a simple and family style restaurant with capacity for 50 people. It serves affordable...
More info
The Lamego Museum is situated in the historical centre of the city. It was built in the 18th century, under the patronage of Bishop Manuel Vasconcelos...
The Miradouro de Nossa Senhora do Socorro "Aveleira" (Nossa Senhora da Aveleira Belvedere) is situated on the EN 108 (National Road 108), km 87,712, located...