Sheraton Porto Hotel & Spa*****
Porto
What's happening

Where To Eat

Points of interest
30 May to 11 Sep 2019
Pablo Picasso made one hundred etchings between 13 September 1930 and March 1937, which passed...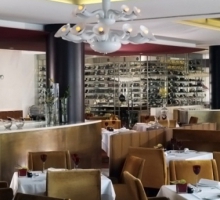 It is a restaurant located at the Sheraton Porto Hotel & Spa, where costumers can taste...
More info
It is a recovered rustic house that offers a beautiful panoramic view of the river Douro from...
More info
Inaugurated on 12th June 1982. António Machado was the architect.How to get there Metro do Porto  -  Fórum MaiaBus - Maia Transportes -...
At the coast about 30 meters deep lies a sunken German submarine of World War II, the U1277. On 3th of June 1945, almost a month after Germany capitulation,...