Sheraton Porto Hotel & Spa*****
Porto
What's happening

Where To Eat

Points of interest
08 Mar to 03 May 2020
Vila Nova de Gaia wellcome a great retrospective of the most international of Portuguese visual...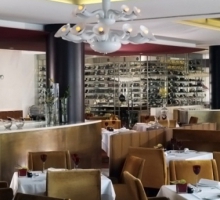 It is a restaurant located at the Sheraton Porto Hotel & Spa, where costumers can taste...
More info
Open every day from 8am to 0am Services: McDrive; Children's Space; Baby Changing room; McCafé;...
More info
For those keen to enhance their knowledge of the Douro Region, and the history of Churchill?s, the Visitors Centre provides a perfect platform.This is a...
Constitutes an asset of the municipality of Gondomar reference, with regard to tiles. Their panels, dated 1936, illustrate aspects of daily life, either Rio...