Vale de Cambra
What's happening

Where To Eat

Points of interest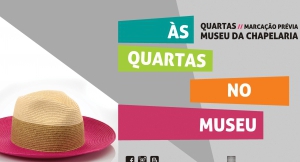 01 Jan to 31 Dec 2020
WEDNESDAY AT THE MUSEUMEvery Wednesday, the Museu da Chapelaria proposes thematic visits to its...
01 Jan to 31 Dec 2020
Meet one of the most prestigious men's shoe factories, where with respect to tradition since...
The buffet service, in the restaurant Bom Talher, allows its customers a quick and delicious...
More info
Environmental Education Center The Environmental Education Center of Vale de Cambra is intended to be an infrastructure of excellence for the practice of...
It is a rustic house where Dr. Manuel Luciano da Silva was born. It was built over a hundred years ago, keeping the original furniture, kitchen utensils...