Vale de Cambra
What's happening

Where To Eat

Points of interest
01 Jan to 31 Dec 2020
Meet one of the most prestigious men's shoe factories, where with respect to tradition since...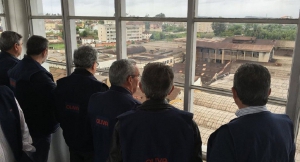 01 Jan to 31 Dec 2020
Starting at Torre da Oliva, with a presentation of the history of the emblematic factory and a...
It is located in the city centre, this restaurant offers its guests the best local and regional...
More info
The Restaurant Porto Novo  is located 11 km from Serra da Freita, in Porto Novo which has a...
More info
In the parish of Rôge it is located one of the scenic treasures of the county: the village of Trebilhadouro, which is uninhabited for about 15...
It is a rural village, located in the place of Carvalheda, in the parish of Rôge. Its name comes from its flora, abundant in oak trees (carvalho).