Casa do Moleiro
Cinfães
What's happening

Where To Eat

Points of interest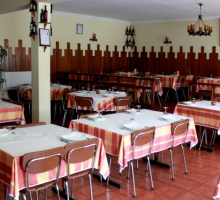 Specialty:  Arouquesa roasted vealAverage price: ? 12 / doseHours: 08h / 22h;Seating capacity:...
More info
The Rural and Ethnographic Museum has traditional cuisine where each dish or snack shows the...
More info
The Miradouro da Portela do Gove (Portela do Gove Belvedere) is situated on the EN 108, km 77.788, 456 meters above sea level. It is built in granite with a...