Alojamento Turístico - Quinta e Casa de Guimarães
Baião
What's happening

Where To Eat

Points of interest
26 Jul 2019 to 31 Jul 2020
Os Melhores Verdes 2018 ? Concurso da Região dos Vinhos VerdesVERDE OURO ? Casa de Vilacetinho...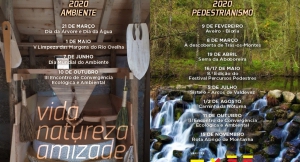 01 Jan to 31 Dec 2020
Hiking activity 2020Annual activity calendar of the Association of Friends of Rio Ovelha
Close  on Saturdays after  15h:Specialties:- "Bacalhau estalado" (codfish);- "Francesinha"; -...
More info
The restaurant seats 90 people. It is a relaxed and pleasant space, where you can enjoy pizzas...
More info
The Caldas de Aregos Hot Springs are recognized by the therapeutic qualities of its thermal waters indicated for the prevention and treatment of respiratory...
The parish of Paus has a set of tangible and intangible values that enhances it in the territory. Ancient land of potters, who worked the clay very hard on...