Arouca
What's happening

Where To Eat

Points of interest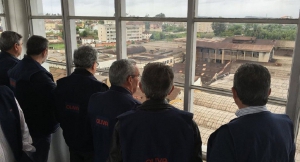 01 Jan to 31 Dec 2020
Starting at Torre da Oliva, with a presentation of the history of the emblematic factory and a...
It seats 350 people and the average price is ? 12.50. The specialties are, "vitela assada"...
More info
Housed in a space of undeniable beauty, the "A Harpa" Restaurant offers a vast menu of...
More info
The Pedras Boroas of Junqueiro are located in one of the granite residual relieves of the Freita mountain?s plateau. In this geosite, it is important to...
It is an old bridge that crosses the river Caima in Padrastros area.The so-called "Ponte Velha" (Old Bridge) dates from the Middle Age and is built by a...