Vale de Cambra
What's happening

Where To Eat

Points of interest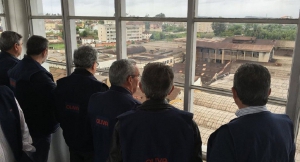 01 Jan to 31 Dec 2020
Starting at Torre da Oliva, with a presentation of the history of the emblematic factory and a...
01 Jan to 31 Dec 2020
Meet one of the most prestigious men's shoe factories, where with respect to tradition since...
In the parish of Rôge it is located one of the scenic treasures of the county: the village of Trebilhadouro, which is uninhabited for about 15...
It has been built by the family Sequeira Monterroso in 1775. In 1884 the manor house was sold and settled here one of the 23  Mail Coaches that existed on...