Arcos de Valdevez
What's happening

Where To Eat

Points of interest
The restaurant is part of the  Arcos Hotel Nature & Spa. -Opening hours: 12h30 ? 15:30h /...
More info
Restaurant O Lagar Closed on Monday Opening Hours: 9: 30h - 24h Capacity: 30...
More info
The track of Ermelo is a type of pedestrian / bicycle pathway covering a distance of 5.2 kilometres at an easy degree of difficulty, motor vehicles being...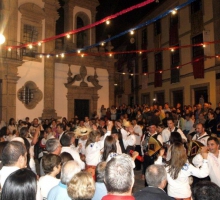 The primitive façade of the "Misericórdia" Mercy Church, had a niche with an image of Our Lady of Mercy made out of stone that the people began to...