Arcos de Valdevez
What's happening

Where To Eat

Points of interest
The Cerqueiral wine is produced, converted and bottled by the producer in Quinta do Cerqueiral,...
More info
Opening hours: 12h - 15h / 19h - 23h Capacity: 42 People Specialities: Sea Bass Stuffed with...
More info
We owe the construction of this church to the generosity of D. Pedro the 2nd; church erected on top of a former temple foundations, probably medieval,...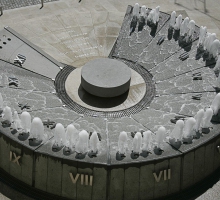 The Water Clock is located in "Largo da Lapa" and considered an EX-LIBRIS of the Historical Nucleus of "Arcos de Valdevez". The aquatic based architecture...