Taberna de S. João
Ponte da Barca
Description / Facilities
Portuguese / Regional cuisine
Address:
Rua de S. João; 4980-627 Ponte da Barca
What's happening

Points of interest
The historic center of Ponte da Barca is filled with valuable and interesting points. Start with the medieval bridge over river Lima, the old seventeenth...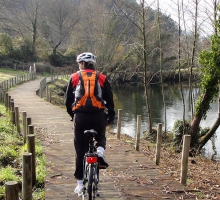 This route, considered by many the most beautiful existing in the region, runs along the left bank of the River Lima connecting the center of the village of...