Restaurant Convívio
Mesão Frio
Description / Facilities
30 seats
Address:
Rua General Alves Pedrosa, 5040 – 322 Mesão Frio
What's happening

Points of interest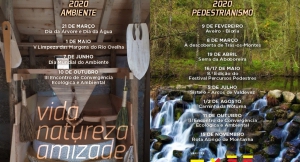 01 Jan to 31 Dec 2020
Hiking activity 2020Annual activity calendar of the Association of Friends of Rio Ovelha
Surrounded by vineyards, the village spread out by the terraces of the Marão Hill up to the banks of the River Douro, in a landscape speckled with manor...
The complex is constituted by an indoor and outdoor swimming-pool, with a privileged location and view over the city. It is a venue of choice! Equipped with...