Pastelaria Apple
Armamar
Description / Facilities
Apple Patisserie
Bakery and confectionery made on the premises
Specialty: Apple Cookies
Address:
Praça da República 5110-127 Armamar
What's happening

Points of interest
Armamar is one of the municipalities of Portugal where more and better apple is produced. Over 50 thousand tone of an apple that by the altitude quota that...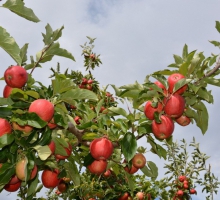 The landscape on the South side of the municipality is marked by extensive apple orchards that give a single contrast to this area, near the Douro. The...