Fábrica dos Sentidos
S. João da Madeira
What's happening

Points of interest
01 Jan to 31 Dec 2020
Viarco is the only pencil factory in Portugal, and probably one of the most versatile in the...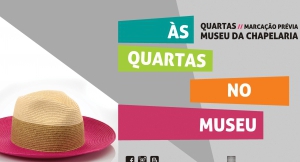 01 Jan to 31 Dec 2020
WEDNESDAY AT THE MUSEUMEvery Wednesday, the Museu da Chapelaria proposes thematic visits to its...
The Millinery Museum is housed in a former hatmaking factory. This museum is a tribute to the hatmaking industry, which is a traditional activity of great...
The Municipal Pavillion of Travessas is one of the largest covered sports hall of the country. This space is composed by a body building room, a press...