D. Sebastião Restaurant
Esposende
Description / Facilities
Close Wednesday.
Timetable: Thursday to Tuesday from 10h to 23h
Address:
Rua Conde Castro, 4740-258 Esposende
E-mail:
tolosa@netcabo.pt
What's happening

Points of interest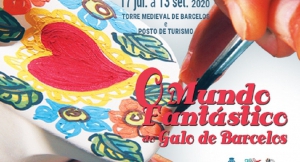 17 Jul to 13 Sep 2020
The exhibition "The Fantastic World of Barcelos Rooster" is composed of around 200 different...
In Esposende, the traditional gastronomy have a permanent place at the table of the renowned local restaurants. The care in the art of  to make and serve...
Enjoy the imaginary craft of Esposende, represented in reed mats, baskets and sculptures in granite, among other Works.The imagination of our craftsmen...