Vila Verde
What's happening

Points of interest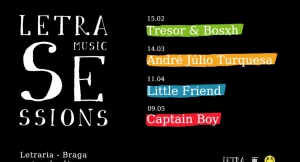 15 Feb to 09 May 2020
Letra Music Sessions, a partnership between Letra craft beer, Gig. and HeadLiner, will start on...
Municipal Festivities in Honour to Saint AnthonyFor several days and no later than 13th June every year, Vila Verde hosts one of the most famous festivals...
Some people claim that the origin of the Valentine?s love scarves, come from the noble?s scarves of the 17th-18th century, transformed later on by the women...